TRIPLE ACTION BALING PRESS MACHINE OPERATING MANUAL-installation details of triple action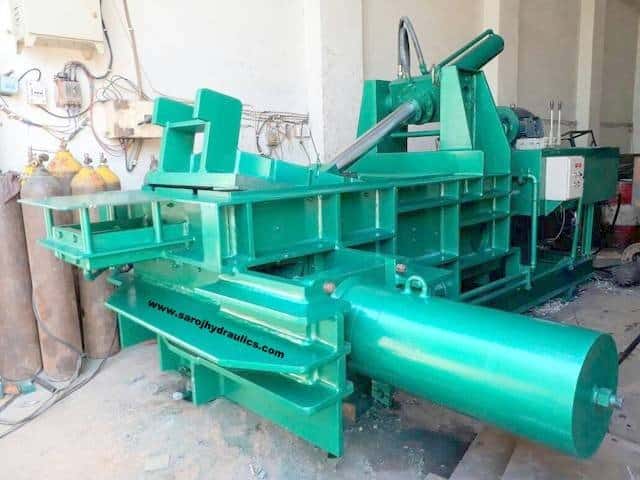 TRIPLE ACTION MACHINE  INSTALLATION GUIDE AND OPERATING MANUAL-
TRIPLE ACTION MINI JUMBO MODEL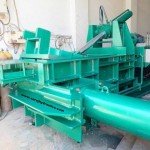 CIVIL STRUCTURE –
As machine is fully loaded on girder that's why no special structure required only plane surface needed
AREA DIMENSION-
A = LxB(IN FOOT)
WHOLE FOR EJECTOR CYLINDER TO EJECT THE BALE
ALL PARTS INSERTED IN THE OIL TANK DURING TRANSPORTATION –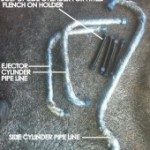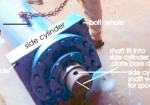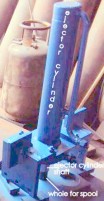 ---
---
Pages index –
Electrical details
AC DETAILS
Machine removable part during loading and fit after unloading for installation
Side cylinder
Ejector cylinder
Fitting of pressure plate
Full machine preview
Operation for machine
precaution
---
---
Page – 1
ELECTRIC MOTOR CONNECTION DETAILS-
30 HP,MOTOR 3 PHASE 1440 R.P.M,440 volt 50 hertz frequency(make star delta connection)
Required starter – above 40 hp , like 50 hp ,100 ampere containing oil ( other company brand) for no overloading on motor,as on overloading starter trip the connection
Required main switch – 100 ampere
Make sure motor will rotate in clockwise direction,and when motor rotate tank should be fully filled with oil ,if tank is empty then pump take air on rotating insist of oil
---
---
WIRE REQUIRED –
12 MM 3 CORE WIRE REQUIRED DISTANCE ACCORDING TO GAP BETWEEN MOTOR AND STARTER
---
---
Page – 2
AIR CONDITIONER DETAILS –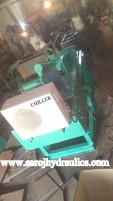 HEAT EXCHANGE CHILLER – CAPACITY 2 TONS
3 PHASE,440 v
 (necessary for all machine who runs more than 3 hours daily.
FOR THE CONTINUOUS WORKING OF MACHINE up to 10-15 HRS WITHOUT ANY BREAKAGE IN PERFORMANCE AND PRESSURE
 IT HELPS IN COOLING OF OIL AND PUMP WHICH GIVES EXTRA LIFE TO PUMP ,OIL AND EVERY  RUBBER PART.
 PROTECT OIL FROM CONDENSING DUE TO HEAT
---
---
Page – 3
Machine images before loading –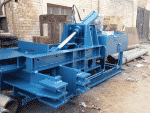 Parts which removed before loading-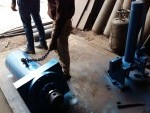 1.Side cylinder- side cylinder pressure plate,1 pipe line,spool
 2.Ejector cylinder,ejector cylinder pressure plate,2 pipe line,spool(in oil tank)
---
---
PAGE – 4
SIDE CYLINDER –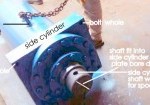 Lift the side cylinder with the help of hook by tying chain(through crane or any lifter,capacity lift up to 200- 500 kg weight.
Bolt is used to fit the side cylinder (bolt  qty 4 piece , position is shown in image- 4.0
One line nut from pipe line L 1 below to the side cylinder(nut shown in image 4.2) is to be fitted
Then fit and screwed properly side cylinder pipe line,L 2(shown in image-5.0)
Make sure all nut screwed tightly and properly,so that there is no leakage during operation.
Image 4.0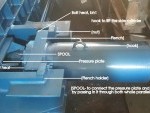 Pressure plate of side cylinder(4.1)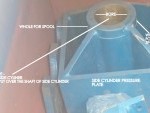 Side cylinder image(4.2)
---
---
PAGE – 5
EJECTOR CYLINDER –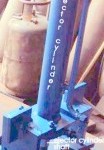 EJECTOR CYLINDER IS USED TO EJECT THE BALE FROM THE CHAMBER(OPERATED BY LEVER L 2 INDIVIDUALLY)
Ejector cylinder –
Required pit for installation, pit size area = L X B= 3 foot x 3 foot and depth 4 foot
Then fit on the holder plate of ejector cylinder with the help of bolt(qty 6 piece)
THEN – fit ejector pipe line – e p l 1 and e p l 2 (as shown in images)
E p l 1 is above then e p l 2 (shown in below images)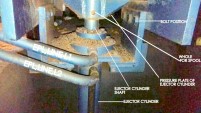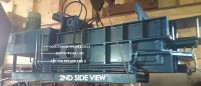 ---
---
Page – 6
Operation After fitting of side and ejector cylinder
Now its turn to clean the oil tank properly,as during loading and unloading some valve drop the oil which is left during testing,
As oil filled in the tank fully so that hydraulic pump immersed fully not partially
Before starting of motor –
Check the oil pipe line is properly screwed,so that there is no wastage of oil then take 1 to 2 small bucket so that if there is any leakage then you can put that bucket below leakage.then you can again insert the oil in oil tank.
Motor will rotate in clockwise direction,if not then your connection is wrong.
                              Pressure plate( figure -A 1)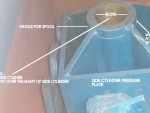 for fitting pressure plate of side cylinder and ejector cylinder pressure plate– (parts required spool-qty 2 piece,pressure plate of both cylinder qty – 2 piece
1st push lever L 1 so that door cylinder will open up to its position and then left the lever
time to fix the pressure plate
First for side cylinder-
land 1 person inside the chamber then stand vertically the pressure plate of side cylinder
 pressure plate plane surface side is in front of plate and its whole side is in front of side cylinder shaft,to move the pressure any person can sit on chamber plate and then push the pressure plate towards side cylinder shaft till pressure plate bore( shown in figure -A 1) come over side cylinder shaft at that position when both of there whole come equally to each other
try to adjust pressure plate of side cylinder like that its  whole diagram will come over the side cylinder shaft diagram and adjust over each other in that position so its pressure plate whole come over shaft cylinder whole and you can see both of whole equally set on each other at 90 degree,whole spool will fit into it and may be some pressure by hitting applied through hammer .
similarly for pressure plate of ejector cylinder
---
---
PAGE – 7
MACHINE PIC AFTER FULL INSTALLATION –
IMAGE 5.0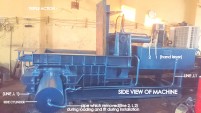 IMAGE 5.1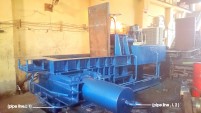 ---
---
PAGE-8
Pull lever L 1,
Door cylinder starts,then lock cylinder,main cylinder and in last side cylinder will move then see the pressure gauge when it shows 2500 psi pressure then push the lever after that all cylinder will back 1 by 1 till door cylinder
Pull lever L 2,
To eject the bale from the chamber ,then push the lever  L 2 after removing of bale then push lever and ejector cylinder go back to its position
---
---
PAGE – 9
Precaution –
BEFORE STARTING OF MOTOR connection CLEAN THE OIL TANK,JOIN ALL THE MACHINE PARTS AND PIPE LINE S OIL NOT DRAWN FROM ANY LINE AND AFTER CLEANING THE TANK THEN PUT THE OIL INTO THE TANK THEN GO FOR MOTOR CONNECTION
1.Motor always rotate in clock wise direction(make star delta connection)
Start AC 20 min before starting of machine through motor
Clean hydraulic pump filter time to time
Always tight the bolt and nut of every cylinder time to time
Make sure ejector cylinder will fitted after ejecting  bale to its proper     position
clean the ejector cylinder pit area always
when machine chamber start make sure nobody touch the chamber and a distance of 2 foot should be maintained during cycle time
always fill scrap into the chamber up to chamber level only,access filling of scrap above chamber level may cause accident
clean the condensing unit with help of blower